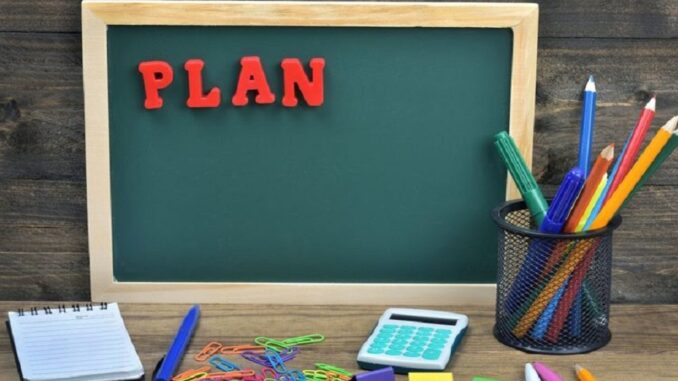 A lesson plan is a road map that instructors use to organise everyday activities in their classes. It specifies what students will learn during each class session, how the lesson will be delivered, and how student progress will be assessed. Usually, a lesson plan for teachers is often a one or two-page document divided into parts that detail what will happen in the classroom on each day. While no two plans are identical – the specifics vary based on the subject being taught, grade level, instructor, students, and school – excellent plans contain the following critical components:
Lesson Goals: what pupils will learn or be able to do as a result of the lesson.
Learning Activities: the activities in which students engage in order to attain the instructional aim.
Materials: the materials required to aid their study.
Time Constraints: the amount of time allotted to each learning activity.
Requirements: related to how the instruction aligns with national, state, or school standards
Assessment: how will teachers assess student learning?
Evaluation and Reflection: a breakdown of what worked, what didn't, and why.
Building a plan is both a creative and important process. Teachers use a variety of methods to engage students, track their progress, and help them learn and understand, all while keeping the students in mind. Teachers think about all the pieces of the puzzle and figure out how they'll fit together to make a good learning experience.When teachers plan lessons ahead of time, they don't have to figure things out as they go. Instead, they can go into the classroom each day ready to teach new ideas and lead meaningful discussions. Without a lesson plan, it's easy for students to lose interest, and teachers may not know what to do next.
Lesson plans are an essential component of teaching, and they are one of a larger set of classroom organisation and management tools. They just cover one lesson, as opposed to other types of plans that cover an entire unit, subject, or programme. If a curriculum is a global map, a lesson plan is the road map that takes you from point A to point B.
Although teacher lesson plans are valuable in the classroom, many teachers, both new and experienced, find them time-consuming, causing them to work many more hours than most other jobs. However, there are some ways to make lesson planning easier. If you're searching for a lesson plan template for the Australian Curriculum or need high-quality teaching materials, visit the Resources for Teaching website. They have everything you need to teach engaging lessons and stay organised in the classroom visit https://resourcesforteaching.com.au.